Utilisé Custom Sputter coater #9058402 à vendre
This Custom Sputter coater has been sold.
Check our Similar Products below, use our
Search feature
to find more products available for sale or
contact us
with any questions you might have.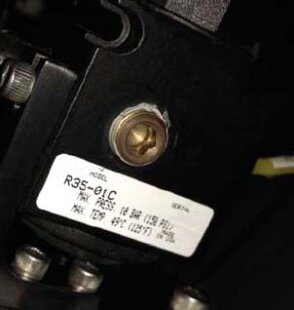 Sold
ID#: 9058402
Détails de l'équipement:
System
Small sample
Vacuum: 5x10-7torr with 1hr of sample load

Chamber:
Bottom plate: ISO 250 baseplate, (1) Onyx-2 magnetron, capable of (3) magnetron sources
Custom top flange and lid for substrate loading
(2) ISO 160 flanges
(6) KF40 flanges available as side ports

Pumping:
HVA gate valve separates chamber from turbo pump
Watts Pneumatics Regulator: Model #: R35-01C
Varian MacroTorr Turbo V550 turbo pump
Varian TurboP ump Controller: Model #: 9699544S016

Gas flow:
MKS Mass-Flo Controller
Model #:1179A22CR1BV
Range: 200 sccm
Gas: N2

Sputter source:
Angstrom Sciences Onyx-2 Magnetron Sputtering Cathode
Model #: Onyx-2 IC STD
Maximum Sputtering Power: DC: 1kW
RF: 600 Watts
Cathode Voltage: 100 - 1500 Volts
Discharge Current: 0.1 - 2 Amps
Operating Pressure: 0.5 - 50 mTorr
Cooling Requirements:
Flow Rate at Maximum Power: 0.05 LPS
Maximum Input Termperature: 20 deg C
Maximum Input Pressure, Open Drain: 4 bar
Target:
Form: Circular/Planar
Diameter: 50.8mm
Thickness: 0.3-9.6mm
Cooling: Indirect
Magnetic Enhancement: Permanent (NdFeB) Encapsulated
Construction:
Cathode Body: OFHC Copper
Anode: 304 Stainless Steel
Insulator: CTFE

Vacuum monitoring:
Granville-Phillips Micro-Ion ATM
Granville-Phillips 275 Mini-Convectron

Power supply: AE MDX, 2.5kW with arc handling circuitry, M/N: 2224-019-A
Interface: C-more EA7-T6CL-R touch panel, 6".

[+] Lire la suite
[-] Fermer